Between the speech therapists and the Bungalow Software, my husband John is doing so well that he is able to communicate his wants and needs by speech. The speech therapists said that your aphasia therapy software has helped John progress to this level of speech." More testimonials>>

-Marie Ritchie,
caregiver & wife

Aphasia Tutor's multiple difficulty levels and feedback ensure success...The patient never walks away [from the program] discouraged."

Candace Gordon, Speech Pathologist
Former Clinic Supervisor, Portland State Speech and Science Program.

I teach at a University and love the concept of your company. Therapy is so much more effective when clients can follow through with it at home.

"Bungalow is a wonderful addition and supplement to our field, and a wonderful resource for our clients."

Trina Harvey-Brown,
M.S.,CCC-SLP
West Texas A&M University, Canyon, Texas
Stroke Recovery: Speech & Language Therapy
Unlimited, independent computer-assisted speech-therapy for stroke and brain-injury survivors.
Stroke survivors rarely get enough speech & language therapy.
Speech therapists created the Bungalow programs to provide unlimited home rehabilitation of speech, language & cognition following a stroke or brain injury. Used by clinics and patients around the world since 1995.
Find therapy programs
.
View speech therapy products or how they work.
Contact us for a free consultation.
Effective Speech & Language
Bungalow Software has been used by
speech-pathologists
around the world and has helped thousands of stroke survivors around the world recover speech & language skills.
Read what they're saying
, or
read a stroke rehabilitation story
from Stroke Connection magazine]
Easy to use
Can be used independently or in therapy. Many stroke survivors have difficulty using the computer. The Bungalow programs were specially designed for stroke survivors and no computer-experience or special training is needed.
Many programs can be used by pressing just the Space Bar on the the computer. Nearly all programs can be used with just 2 or 3 keys (or the mouse).
More on stroke rehabilitation below.
Not enough speech therapy: Why?
Stroke patients get much more physical rehabilitation than speech therapy. The reason? Physical symptoms are more obviously a medical issue and a physical difficulty often increases the overall cost to care for the patient. For example, if their legs were impaired, they'd need a wheelchair, ramps, perhaps an aid, etc. This increases the cost to the insurance company. So, physical rehabilitation saves money the insurance company money. It's not malicious. It's just business.
Providing speech rehabilitation does not generally save the insurance company money. And it's perceived to be a quality of life issue, not a medical need.
Bungalow Software disagrees.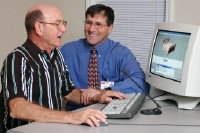 Speech & Language rehabilitation software, from Bungalow, was designed specifically to provide more speech & language recovery after a stroke. Patients use it for independent recovery. It's convenient and unlimited. They can use it as long and whenever they like. The resources below will guide you to the right program. You can even try the programs out —free!
Contact Bungalow Software
E-mail Bungalow with questions or comments.

We answer all emails, usually within 1 business day.
If you have not received an answer within one business day, please double check that you don't have any spam filters installed that would block our messages to you.

Postal (mailing) address

Bungalow Software
2905 Wakefield Dr.
Blacksburg, VA 24060-8184
United States

Phone 1+540-951-0623
Mon-Fri, 10am to 6 pm Eastern time. Closed on all US Postal Holidays.
If you are only available after hours call or email us to arrange an After Hours callback.

Fax: 1+(508) 526-0305