Synonyms, Antonyms, & Homonyms
Therapy software for moderate word-retrieval difficulty due to aphasia or other language disorder.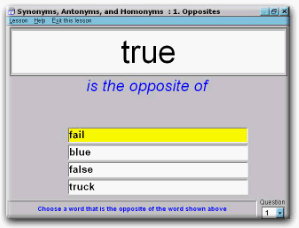 Lesson 1: Pick the opposite
Lesson 2: type the opposite of the word
Lesson 9: Synonyms (words with the same meaning)
Appropriate for:
Aphasia / Anomia
Word retrieval
Vocabulary development
Reasoning
This program is for higher level word-retrieval ("word-finding") common in aphasia. It's a companion or follow-on to Aphasia Tutor 2.
Video Demo
How it works
Displays a prompt such as "Up is the opposite of ___". The patient chooses or types the correct answer. As the title suggests, has lessons where the patient finds a word that has the same meaning (Synonym), opposite meaning (Antonym) or finds another word that sounds the same (Homonym).
Highest levels are very challenging. The patient is given a definition. S/he must then match that to the definition of another word that sounds the same.
15 Lessons of increasing difficulty:
Opposites (multiple choice)
Opposites (fill-in-the blank)
Opposites (multiple choice) - Harder
Opposites (fill-in-the blank) - Harder
Words with the same meaning (multiple choice)
Words with the same meaning (fillin)
Words with the same meaning (multiple choice) - Harder
Words with the same meaning (fillin) - Harder
Words with the same meaning (multiple choice) - Hardest
Words with the same meaning (fillin) - Hardest
Words that sound alike (multiple choice)
Words that sound alike (fillin)
Words that sound alike (Hard)
Words that sound alike (Harder)
Words that sound alike (Hardest) [view sample]
BIG is the opposite of

small
large
bag
bug

(Answer: a. Small)
Most challenging level (#15)

"precipitation is ___"

which sounds like the word for :

kitchen appliance which keeps food cold
pants made with denim
the rule of royalty
paper which assists route-finding

Answer: C, because "the rule of royalty" is "Reign" which SOUNDS LIKE "rain". Precipitation is
"rain").

Level 15: Match two definitions for different words that sound alike (whale and wail, in this case)
Benefits
Boosts patient self esteem
Provides weeks or months of self-paced speech therapy practice.
Practical preparation for "the real world"
There are also advantages for clinicians, such as saving time and providing an extra service (free demo disks)
Over 350 exercises.
14 different lessons, each at a different difficulty.
Sound cues provided for the Homonym lessons.
Easy-to-use. You can use the mouse or keyboard.
Pro version Features
These features are available in the Professional version of the program.
Save time with automatic progress-tracking.

Results of each session are saved, by client, to a file. You can print this or copy it into other documentation.

Automatically remembers settings for each patient

So, when Mr. Jones comes back in for his next visit, you just select Mr. Jones and the program remembers how he did last time, what lesson he was using, and what settings you used for him.

Repetition Practice

Repeat the first 20 questions 5 times, or repeat as many questions as you like as many times as you like. You can also control the length of the lesson without repetition, such as having a 25 exercise lesson. (Bungalow programs have so many exercises we've found that even one lesson can be too much for a patient to do in one sitting.

Multiple-computer site license

Licensed for 2 PCs at one address (one building) and for multiple patients (users) on each PC. Contact us for discounts on multiple Pro licenses.
---
Computer Requirements
Short Answer:
Nearly any Windows PC computers made since 2002 will run our programs. If you're not sure, try them out with our trial CD. Trials are identical to the full version, only time limited. So if the trial works, so will the full program. You can also buy programs with our Money Back Guarantee.
Detailed Answer (for computer geeks)
Windows: XP, Vista, 7, 8 or 10.

If your computer has a Start button in the lower left comer, and it was new in 2000 or later then you've got one of those versions. There are several options for your Macintosh.

If you have an older computer with Windows 95 or Windows 98 (which are 9 to 14 years old) you can still run all the programs except for Sights'n Sounds 2, Speech Sounds On Cue, and Sentence Shaper

Sound Card

If your PC ever plays music (even just at start up) it has a sound card. If it has external speakers, it probably has a sound card. Speakers plug into the sound card.

CD-ROM drive

Microphone

Required only for programs that record speech (Sights'n Sounds, Numbers'n Sounds, and SpeechPrism) These are inexpensive. You can buy them for $9.50

Screen that can display 256 or more colors.
160 MB Hard Drive space (if you're installing all 23 programs).
Most programs need about 10-20MB of storage. Typical low end PCs have 60,000 MB of storage so this usually isn't a problem.